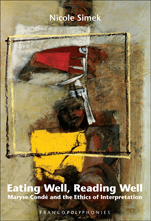 Nicole Simek, Eating Well, Reading Well. Maryse Condé and the Ethics of Interpretation.
Rodopi
EAN: 9789042023277
Date de publication : 1 janvier 2008
Information publiée le 20 décembre 2007 par Bérenger Boulay (source :
Rodopi edition
)
 Nicole Simek

Eating Well, Reading Well.
Maryse Condé and the Ethics of Interpretation.
Rodopi
Amsterdam/New York, NY, 2008, 235 pp.
ISBN: 978-90-420-2327-7
Prière d'insérer
While rejecting a conception of literature as moral philosophy, or a device for imparting particular morals to the reader through exemplary characters and plots, Maryse Condé has displayed throughout her writing career a strong valorization of literature as ethical critique. This study examines her singular approach to literary commitment as a critical reworking of aesthetic models and modes of interpretation. Focusing on four dominant problematics in Condé's work—history and globalization in La Belle Créole and Moi, Tituba sorcière...noire de Salem, intertextuality and reception in La migration des coeurs and Célanire cou-coupé, trauma and subjectivity in En attendant le bonheur and Desirada, community and ethics in Traversée de la mangrove and Histoire de la femme cannibale—this analysis proposes to elucidate how, and to what ends, Condé engages, and alters, approaches to reading, staging the problematic, yet pragmatic, need to read well. This hermeneutic imperative foregrounds the need to engage with texts, to cannibalize texts while recognizing their fundamental opacity and inexhaustibility, their resistance to the reader's interpretive habits.
Table of Contents
Acknowledgments
Introduction. Interpreting through Example
Chapter 1. Reading History: The Example of the Past after Globalization
Chapter 2. Rusing with the Canon: Insolent Imitation, Parodic Intertextuality
Chapter 3. Writing Violence: Collective Traumas, Singular Pasts
Chapter 4. The Cannibal Reader: Digesting the Other, Interpreting Community
Conclusion. Comme un Indien Tupinamba...
Bibliography
Index

Nicole Simek is an Assistant Professor of Foreign Languages and Literatures at Whitman College. Specializing in French Caribbean literature, Simek's research interests include the intersection of politics and literature in Caribbean fiction, trauma theory, and sociological approaches to literature.