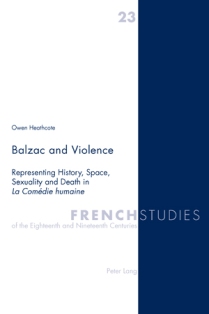 O. Heathcote, Balzac and Violence. Representing History, Space, Sexuality and Death in La Comédie humaine
Peter Lang, coll. "French Studies of the Eighteenth and Nineteenth Centuries"
EAN: 9783039105519
Date de publication : 0 mai 2009
Owen Heathcote, Balzac and Violence. Representing History, Space, Sexuality and Death in La Comédie humaine, Oxford : Peter Lang, coll. "French Studies of the Eighteenth and Nineteenth Centuries", 2009.
ISBN-13 : 978-3-03910-551-9
Prix : 35 €
Présentation de l'éditeur :
Violence is one of the main themes in the novels of Honoré de Balzac.Executions, murders, savagery and death accompany the conspiracies andthe turbulence that characterise his post-Revolutionary times, from theTerror to the Napoleonic campaigns and then to the upheavals of 1830and 1848. Despite the importance of violence in Balzac, this is thefirst book-length study of the topic. The book begins by tracing thelinks between violence and Balzac's approach to the novel, not merelyin terms of violent content, but, equally importantly, in terms of the formassociated with that content. Form and content combine to perpetuateand naturalise violence and suffering. After charting examples of thiscombination in one of Balzac's earliest fictions, the book moves on tothe links between violence and history (Catherine de Médicis; theTerror), between violence and place (from his native Touraine tosickness in Paris), and between violence and gender/sexuality. It alsoexamines the representation of violence in the form of spoken orwritten death. Throughout the analysis, the book asks the followingquestion: do Balzac's novels reinforce or counteract the literarytext's apparent love-affair with violence?
Sommaire :
Mourning Becomes Prometheus: History, Space, Gender and Death in Balzac - Violence and Form in the Balzac Novel: Les Paysans, Illusions perdues and Splendeurs et misères des courtisanes - The Origins of Violence in Balzac: From Sténie to El Verdugo - Balzac 'le fataliste'? Historical Materialism and Material Violence in Sur Catherine de Médicis and Le Réquisitionnaire - Post-Revolutionary Violence: Crossroads of Terror in Une ténébreuse affaire - The Violence of Touraine: Le Lys dans la vallée - Out in the City: History, Violence and Gender in L'Envers de l'histoire contemporaine - Violating Sexual Difference: La Fausse maîtresse, Autre étude de femme, and La Fille aux yeux d'or -Violent Sexualities? The Representation of Prostitution and theProstitution of Representation - Violence, Politics and Death: Z. Marcas - The Poetics of Death in Albert Savarus - Mourning Becomes Prometheus: Homeopathy, Repair - and Unrest.
Adresse : Department of Languages and European Studies, University of Bradford, Bradford, West Yorkshire, BD7 1DP, GB