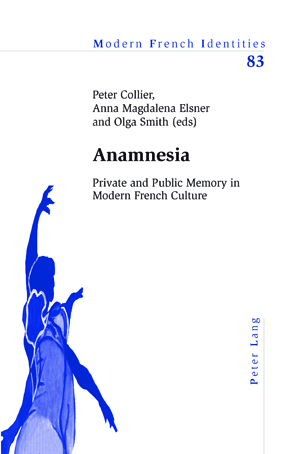 P. Collier et alii (dir.), Anamnesia. Private and Public Memory in Modern French Culture
Peter Lang, coll. "Modern French Identities"
EAN: 9783039118465
Date de publication : 0 novembre 2009
Anamnesia. Private and Public Memory in Modern French Culture
Sous la direction de Peter Collier, Anna Magdalena Elsner et Olga Smith
Oxford : Peter Lang, coll. "Modern French Identities", 2009.
EAN 9783039118465
359 p.
Prix 50EUR
Présentation de l'édition :
Memoryhas always been crucial to French literature and culture as a means ofmediating the relationship between perception and knowledge of theindividual coming to terms with his identity in time. Relativelyrecently, memory has also emerged as the key force in the creation of acollective consciousness in the wider perspective of French culturalhistory. This collection of essays, selected from the proceedings of aseminar on 'Memory' given by Dr Emma Wilson at the University ofCambridge, offers a fresh evaluation of memory as both a cultural andan individual phenomenon in modern and contemporary French culture,including literature, cinema and the visual arts. 'Anamnesia', thebook's title, develops the Aristotelian concept of anamnesis:recollection as a dynamic and creative process, which includesforgetting as much as remembering, concealment as much as imagination.Memory in this extremely diverse range of essays is therefore far frombeing presented as a straightforward process of recalling the past, butemerges as the site of research and renegotiation, of contradictionsand even aporia.
Contents :
Emma Wilson: Preface
Peter Collier/Anna Magdalena Elsner/Olga Smith:Introduction
Max Silverman: Trips, Tropes and Traces: Reflections onMemory in French and Francophone Culture
Ian James: Death, Memory,Subjectivity: Perec's W, ou le souvenir d'enfance
AnnaMagdalena Elsner: 'L'obscénité absolue du projet de comprendre': TheCommunicability of Traumatic Knowledge in Claude Lanzmann's Shoah
Myriem El Maïzi: Marguerite Duras' Poetics of Diversion: Memory,Forgetting and Invention
Jenny Murray: 'La mort inachevée': Writing,Remembering, and Forgetting in Assia Djebar's Le Blanc de l'Algérie, La Disparition de la langue française and Nulle part dans la maison de mon père
Patrick O'Donovan: Memory as Object: A Relation of Proximity?
Catherine Crimp: Louise Bourgeois and Samuel Beckett: Space and theMaterials of Memory
Olga Smith: 'A Hollow Image of the Person':Objects of Memory in the Art of Christian Boltanski
Ferzina Banaji:Rethinking Memory: The Violation of a 'lieu de mémoire' in MarcelOphüls' Le Chagrin et la pitié
Jennifer Burris: A Landscapeof Amnesia: The Loss and Attempted Reconstruction of Memory in ArtisticRepresentations of the Urban
Rositza Alexandrova: Things of Art: APhotographic Thumbing of the Nose
Katja Haustein: 'La vie commeoeuvre': Barthes with Proust
Michèle Lester: Through the LookingGlass: Beckett's Monologues, Jacques Lacan and the Role of Memory
Roger Cardinal: Joë Bousquet: Remembering a Wound
Thanh-Vân Ton-That:Anna Moï's Riz Noir: A Feminine View of War, between TwoCultures
Amaleena Damlé: Phantasmal Relics: Psychoanalytical andDeconstructive Ghosts in Moi L'Interdite and Pagli byAnanda Devi
Jenny Chamarette: Memory, Representation of Time andCinema
Nadine Boljkovac: Intimacy and Prophecy: Marker and Resnais'sMemories
Richard Armstrong: '«Nevers» ... is just a word like anyother': The Failure of Words and the Wandering Woman in Hiroshima mon amour
Isabelle McNeill: Agnès Varda's Moving Museums
Carol Mavor: A is for Alice, for Amnesia, for Anamnesis: A Fairy Tale called La Jetée.

The Editors :
Peter Collier is Emeritus Fellow in French at Sidney Sussex College, University of Cambridge. His books include Proust and Venice (1989). He has translated Zola's Germinal (1994) and Proust's The Fugitive (2002). He is the series editor of Modern French Identities and European Connections for Peter Lang.
Anna Magdalena Elsner is a Ph.D. candidate at the University ofCambridge and currently a visiting researcher at the Ecole NormaleSupérieure in Paris. She is writing on the relation between mourningand creativity in Proust's A la recherche du temps perdu. Apart from everything Proustian, she is also interested in French documentary cinema.
Olga Smith is preparing her Ph.D. thesis, entitled 'The Erosion of theReal: Photography in France 1970s-2000s' at the Department of Historyof Art at the University of Cambridge. She is currently a visitingscholar at the Ecole Normale Supérieure, Paris.