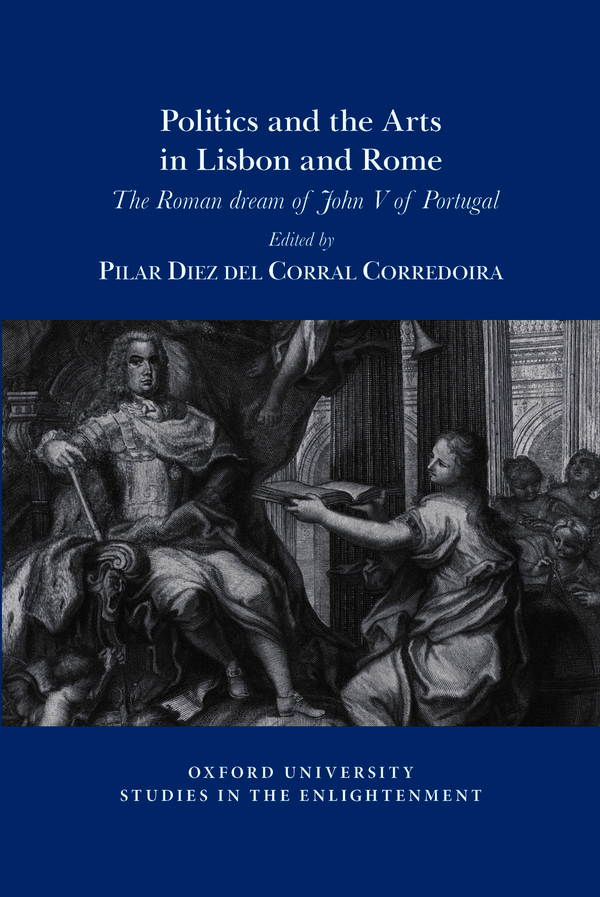 P. Diez del Corral Corredoira (dir.), Politics and the arts in Lisbon and Rome: The Roman dream of John V of Portugal
coll. "Oxford University Studies in the Enlightenment"
EAN: 9781789620122
Politics and the arts in Lisbon and Rome: The Roman dream of John V of Portugal
Edited by Pilar Diez del Corral Corredoira
Oxford University Studies in the Enlightenment 2019:10
***
304 pages, 65 £
ISBN: 9781789620122
***
DESCRIPTION :
Approaching the reign of John V of Portugal from a cross-disciplinary point of view, this volume illustrates to English readers how Rome, as the papal city and as an artistic paradigm, had a pivotal influence in Portuguese art, music and politics.
A re-assertion of Portugal's importance to Eighteenth-century Studies
New perspectives on John V of Portugal and his cultural endeavours with Rome
A cross-disciplinary approach to the Golden Age of Portugal in 18th Century
*
Table of Contents:
List of illustrations
List of abbreviations
Pilar Diez del Corral Corredoira, Introduction: il viaggio mancato – John V and the origins of his vision of Rome
I. Rome: paradigm and propaganda
David Martín Marcos, Beyond policy: shaping the image of John V of Portugal in Rome
Marília de Azambuja Ribeiro, Politics, spectacle and propaganda: the political use of patronage and the press by John V's representatives in Rome during the first half of the eighteenth century
Danielle Kuntz, 'S'unisca il Tago al Tebro, il Tebro al Tago': the politics of Portuguese patronage in Alessandro Scarlatti's La Virtù negli amori
Pilar Diez del Corral Corredoira, The Accademia del Portogallo: emulation and strategy in the papal city
II. Lisbon: creative reappropriation
Cristina Fernandes, Music, ceremonial and architectural spaces in the patriarchal church of King John V: the remaking of Roman models
Fernando Miguel M. Jalôto, Antonio Tedeschi, 'Sanctæ Patriarchalis Ecclesiæ Regius Cantor': an Italian musician at the court of John V
Giuseppina Raggi, Rethinking the artistic policy of King John V of Portugal and Queen Maria Anna of Habsburg: architecture and opera theatre
Iris Haist, The marbles and the modelli of Mafra: John V and the taste for Italian baroque sculpture
Summaries
Bibliography
Index
*
"Politics and the arts in Lisbon and Rome explores the obsession of John V with Rome from very different angles, tackling classical political history, musicology and art history, and ultimately aims to bring to life a fascinating period in the relations between Rome and Portugal – it also puts into perspective the achievements of a magnificent, and sometimes extravagant, king." (Read the editor's accompanying blog post)
***
Pilar Diez del Corral Corredoira is Ramón y Cajal Fellow based at the Art History department of the Universidad Nacional de Educación a Distancia (Madrid). She wrote a PhD on Classical Art and has widely published in international journals (The Burlington Magazine, Storia dell'Arte, etc). Her current research is focused on Iberian cultural identities, artistic mobility and diplomacy in Rome in the 18th Century.
The Oxford University Studies in the Enlightenment series, previously known as SVEC (Studies on Voltaire and the Eighteenth Century), has published over 500 peer-reviewed scholarly volumes since 1955 as part of the Voltaire Foundation at the University of Oxford. International in focus, Oxford University Studies in the Enlightenment volumes cover wide-ranging aspects of the eighteenth century and the Enlightenment, from gender studies to political theory, and from economics to visual arts and music, and are published in English or French.