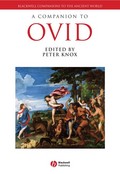 P. E. Knox (dir.), A Companion to Ovid
Wiley-Blackwell, coll. "Blackwell Companions to the Ancient World"
EAN: 9781405141833

Peter E. Knox (dir.), A Companion to Ovid,  Chichester/Malden, MA:  Wiley-Blackwell, coll. "Blackwell Companions to the Ancient World", 2009.  Pp. xviii, 534.  
ISBN 9781405141833.  
$199.95.  

Recension par Antonio Ramírez de Verger (Universidad de Huelva) dans Bryn Mawr Classical Review 2009.11.32.
Extraits en ligne sur books.google.

Présentation de l'éditeur:
This volume features more than 30 newly commissioned essays by notedscholars writing on various aspects of Ovid's work, such as production,genre, and style. It presents interpretive essays on key poems andcollections of poems and includes detailed discussions of Ovid'sprimary literary influences and his reception in English literature.The book also provides a helpful chronology of key literary andhistorical events during Ovid's lifetime.
Table des matières:
List of Figures (viii)
Notes on Contributors (ix-xiii)
Preface (xiv)
List of Abbreviations (xv-xvi)
Chronological Table of Important Events in Roman History and Literature during the
Life of Ovid (xvii-xviii)

Part I Contexts
1. A Poet's Life, Peter E. Knox (3-7)
2. Poetry in Augustan Rome, Mario Citroni (8-25)
3. Rhetoric and Ovid's Poetry, Elaine Fantham (26-44)
4. Ovid and Religion, Julia Dyson Heyduk (45-58)

Part II Texts
5. The Amores: Ovid making Love, Joan Booth (61-77)
6. The Heroides: Female Elegy?, Laurel Fulkerson (78-89)
7. The Ars amatoria, Roy K. Gibson (90-103)
8. Remedia Amoris, Barbara Weiden Boyd (104-119)
9. Fasti: the Poet, the Prince, and the Plebs, Geraldine Herbert-Brown (120-139)
10. The Metamorphoses: A Poet's Poem, E. J. Kenney (140-153)
11. The Metamorphose s: Politics and Narrative, Gareth D. Williams (154-169)
12. Tristia, Jo-Marie Claassen (170-183)
13. Ibis, Martin Helzle (185-193)
14. Epistulae ex Ponto, Luigi Galasso (194-206)
15. Lost and Spurious Works, Peter E. Knox (207-216)

Part III Intertexts
16. Ovid and Hellenistic Poetry, Jane L. Lightfoot (219-235)
17. Ovid and Callimachus: Rewriting the Master, Benjamin Acosta Hughes (236-251)
18. Ovid's Catullus and the Neoteric Moment in Roman Poetry, David Wray (252-264)
19. Propertius and Ovid, S. J. Heyworth (265-278)
20. Tibullus and Ovid, Robert Maltby (279-293)
21. Ovid's Reception of Virgil, Richard F. Thomas (294-307)

Part IV Critical and Scholarly Approaches
22. Editing Ovid: Immortal Works and Material Texts, Mark Possanza (311-326)
23. Commenting on Ovid, Peter E. Knox (326-340)
24. Ovidian Intertextuality, Sergio Casali (341-354)
25. Sexuality and Gender, Alison Keith (355-369)
26. Ovid's Generic Transformation, Joseph Farrell (370-380)
27. Theorizing Ovid, Efrossini Spentzou (381-393)

Part V Literary Receptions
28. Ovidian Strategies in Early Imperial literature, Charles McNelis (397-410)
29. The Medieval Ovid, John M. Fyler (411-422)
30. Ovid in Renaissance English Literature, Heather James (423-441)
31. Ovid and Shakespeare, Gordon Braden (442-454)
32. Ovid in the Twentieth Century, Theodore Ziolkowski (455-468)
33. Translating Ovid, Chistopher Martin (469-484)
Bibliography (485-515)
Index (516-534)