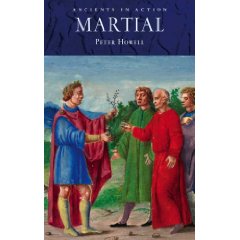 P. Howell, Martial
Duckworth, coll. "Ancients in Action"
EAN: 9781853997020
Peter Howell, Martial, London: Duckworth, coll. "Ancients in Action", 2009. 128 pages.
ISBN 9781853997020
£11.99
Recension par Shannon N. Byrne (Xavier University) dans Bryn Mawr Classical Review 2009.10.18. 
Présentation de l'éditeur:
Martial (Marcus Valerius Martialis) was a Spanish writer who lived inRome in the second half of the first century AD. He wrote only in thegenre of epigram, invented by the Greeks, which he chose because of hisdislike of all that was pretentious and escapist in contemporaryliterature, where stale mythological topics were regarded as both'elevated' and, in times of political danger, safe. His own boundlessinterest in the life he saw around him in Rome, and his sense ofhumour, led him to prefer to express himself in short and highlypolished poems. He brought the genre to such a pitch of perfection thathis work has defined it for subsequent authors. Although only a limitednumber of his own epigrams conform to the dictionary definition as 'ashort poem ending in a witty turn of thought', their effectiveness hasshaped this definition. This book tells what we know about the man'scommonsense attitude to life, and his hatred of hypocrisy and malice.It assesses his debt to literary tradition and the astonishinginfluence he had on later writers.
Peter Howell was Senior Lecturer in the Department of Classics,Royal Holloway, University of London until his retirement in 1999. Heis the author of A Commentary on Book I of the Epigrams of Martial (1980) and Martial: The Epigrams, Book V (1995).