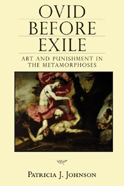 P. J. Johnson, Ovid Before Exile. Art and Punishment in the Metamorphoses
The University of Wisconsin Press, coll. "Wisconsin Studies in Classics"
EAN: 9780299224004
Information publiée le 20 septembre 2008 par Bérenger Boulay
Patricia J. Johnson, Ovid Before Exile. Art and Punishment in the Metamorphoses,  Madison, WI:  The University of Wisconsin Press, coll. "Wisconsin Studies in Classics",   2008, 184p. 
William Aylward, Nicholas D. Cahill, and Patricia A. Rosenmeyer, General Editors
Isbn (ean13): 978-0-299-22400-4.
Recension par Steven J. Green (University of Leeds) dans Bryn Mawr Classical Review: 2008.09.42.
http://ccat.sas.upenn.edu/bmcr/2008/2008-09-42.html
Présentation de l'éditeur:
Ovid responds to the quashing of artistic freedom in late Augustan Rome
Ovid's epic masterpiece, the Metamorphoses, with its fiercely irreverent tone and its resolute defiance of the boundaries of genre, stands boldly apart both from the other poetry of its age and from the epic tradition that preceded it. A generation earlier, a high culture of poets and patrons had flourished, giving rise to the great works of Vergil, Horace, Propertius, and Tibullus. But, in this compelling new reading of the Metamorphoses in its social and political context, Patricia Johnson demonstrates that Ovid was writing in an artistic atmosphere succumbing to a stranglehold of implicit censorship that culminated in his exile from Rome in 8 A.D.

Johnson shows that, in the poem, danger permeates acts of artistic creation. In Ovid's portrayals of mythic figures–from Arachne and Minerva to Orpheus in the Underworld–artists who please their audience triumph; the defiant and subversive are destroyed. She reveals that in the poem, as in late Augustan Rome, the overriding criterion for artistic success was not aesthetic beauty but satisfying the expectations and desires of powerful audiences. She convincingly demonstrates just how unprecedented the Metamorphoses was in the epic tradition.
"A new and stimulating reading of three central episodes of Ovid's brilliant Metamorphoses: the artistic contests between the Muses and their challengers, and Minerva and her challenger Arachne, and the more extended tale of Orpheus singing his lays of boy-love and forbidden female passions. All three narratives are set in the full dimensions of Ovid's own literary and political context."–Elaine Fantham, Princeton University
"Johnson shows that the foreboding about artistic freedom of expression that pervades Ovid's exile poetry had set in even when he was writing the Metamorphoses."–Martin Helzle, Case Western Reserve University
Patricia Johnson is associate professor of classical studies at Boston University.