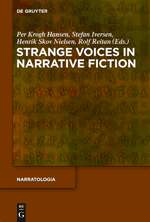 P. K. Hansen et alii (dir.), Strange Voices in Narrative Fiction
Walter de Gruyter, coll. "Narratologia"
EAN: 9783110268577
Strange Voices in Narrative Fiction
Hansen, Per Krogh / Iversen, Stefan / Nielsen, Henrik Skov / Reitan, Rolf, éd.
Berin, New York: Walter de Gruyter Verlag, coll. "Narratologia / Contributions to Narrative Theory" n°30, 2011
Isbn 13 (ean): 9783110268577
79.95€
Présentation de l'éditeur:
From its beginnings narratology has incorporated a communicative model of literary narratives, considering these as simulations of natural, oral acts of communication. This approach, however, has had some problems with accounting for the strangeness and anomalies of modern and postmodern narratives. As many skeptics have shown, not even classical realism conforms to the standard set by oral or 'natural' storytelling. Thus, an urge to confront narratology with the difficult task of reconsidering a most basic premise in its theoretical and analytical endeavors has, for some time, been undeniable.
During the 2000s, Nordic narratologists have been among the most active and insistent critics of the communicative model. They share a marked skepticism towards the idea of using 'natural' narratives as a model for understanding and interpreting all kinds of narratives, and for all of them, the distinction of fiction is of vital importance.
This anthology presents a collection of new articles that deal with strange narratives, narratives of the strange, or, more generally, with the strangeness of fiction, and even with some strange aspects of narratology.
Introduction 
SYLVIE PATRON
Homonymy, Polysemy and Synonymy: Reflections on the Notion of Voice
RIKKE ANDERSEN KRAGLUND
'Alternate Strains are to the Muses dear: The Oddness of Genette's Voice in Narrative Discourse
HENRIK SKOV NIELSEN
Fictional Voices? Strange Voices? Unnatural Voices? 
PEER F. BUNDGAARD
Significant Deviations: Strange Uses of Voice are one among other Means of Meaning Making 
LARS-ÅKE SKALIN
How Strange Are the "Strange Voices" of Fiction? 
STEFAN IVERSEN
States of Exception: Decoupling, Metarepresentation, and Strange Voice in Narrative Fiction 
ROLF REITAN
Theorizing Second-Person Narratives: A Backwater Project? 
MARINA GRISHAKOVA
Toward a Typology of Virtual Narrative Voices 
MAIRA MÄKELÄ
Masters of Interiority: FiguraI voices as discursive appropriators and as loopholes in narrative communication 
POUL BEHRENDT & PER KROGH HANSEN
The Fifth Mode of Representation: Ambiguous Voices in Unreliable Third Person Narration 
BRIAN RICHARDSON
Unnatural Voices in Ulysses
Index