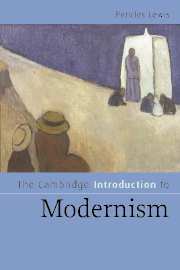 P. Lewis, The Cambridge Introduction to Modernism
Date de publication : 0 mai 2007
PericlesLewis, The Cambridge Introduction toModernism, Cambridge University Press, coll. "Cambridge Introductions to Literature", mai 2007.

Paperback
ISBN-13:9780521535274
Présentation de l'éditeur
Must-haveguides designed to introduce students and teachers to key topics and authors. Morethan a century after its beginnings, modernism still has the power to shock,alienate or challenge readers. Modernist art and literature remain thought ofas complex and difficult. This introduction explains in a readable, livelystyle how modernism emerged, how it is defined, and how it developed indifferent forms and genres. Pericles Lewis offers students a survey ofliterature and art in England, Ireland and Europe at the beginning of the twentiethcentury. He also provides an overview of critical thought on modernism and itscontinuing influence on the arts today, reflecting the interests of currentscholarship in the social and cultural contexts of modernism. The comparativeperspective on Anglo-American and European modernism shows how Europeanmovements have influenced the development of English-language modernism. Illustratedwith works of art and featuring suggestions for further study, this is theideal introduction to understanding and enjoying modernist literature and art.
Table
Preface;Introduction; Part I. Origins: 1. Trials of modernity; 2. Primitivists andmodernizers; 3. The avant-garde and High modernism; Part II. Genres: 4.Poetry; 5. Prose fiction; 6. Drama; Part III. Fate: 7. Literature and politics;Conclusion: after modernism?; Chronology.