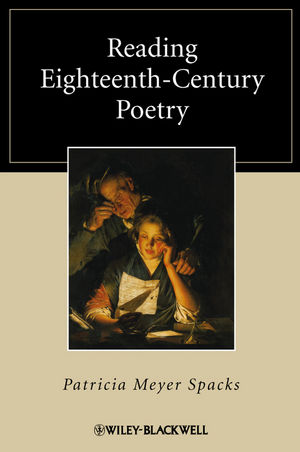 P. Meyer Spacks, Reading Eighteenth-Century Poetry
Wiley-Blackwell
EAN: 9781405153614
Information publiée le 8 février 2009 par Bérenger Boulay
Patricia Meyer Spacks, Reading Eighteenth-Century Poetry, Wiley-Blackwell, jan. 2009, 304 p.
ISBN: 978-1-4051-5361-4 (Hardcover)
£50.00 / €62.50
Autre format: Paperback
Présentation de l'éditeur:
Reading Eighteenth-Century Poetryrecaptures for modern readers the urgency, distinctiveness andrewarding nature of this challenging and powerful body of poetry.



An essential guide to reading eighteenth-century poetry, written by world-renowned critic, Patricia Meyer Spacks

Exposes the multiplicity of forms, tones, and topics engaged by poets during this period

Providesin-depth analysis of poems by established figures such as AlexanderPope and Jonathan Swift, as well as work by less familiar figures,including Anne Finch and Mary Leapor

A broadly chronological structure incorporates close reading alongside insightful contextual and historical detail

Capturesthe power and uniqueness of eighteenth-century poetry, creating anideal guide for those returning to this period, or delving into it forthe first time
PATRICIA MEYER SPACKS is Edgar F. Shannon Professor ofEighteenth-Century Literature at the University of Virginia. She is theauthor of numerous books, and amongst other honors, was Vice Presidentof the American Academy of Arts and Sciences from 2001-2006.

Preamble.
1. How to Live: The Moral and the Social.
2. Matters of Feeling: Poetry of Emotion.
3. The Power of Detail: Description in Verse.
4. High Language and Low: The Diction of Poetry.
5. Alexander Pope and Lady Mary Wortley Montagu.
6. How to Live: The Place of Work.
7. Matters of Feeling: Forms of the Personal.
8. Structures of Energy, Structures of Leisure: Ode and Blank Verse.
9. Old Poetry, Old Language: Imitation and Fraud.
10. Outliers: Mary Leapor and Christopher Smart.
11. How to Live: Poetry and Politics.
12. Matters of Feeling: Emotion Celebrated.
13. Narrative and Reflection.
14. Poetic Languages: Diction Old and New.
15. Mary Robinson and William Cowper.
Bibliography.
Index