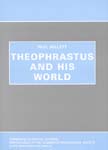 P. Millet, Theophrastus and His World
Cambridge University Press, coll. "Proceedings of the Cambridge Philological Society"
EAN: 978090614325

Paul Millet, Theophrastus and His World,  Cambridge:  Cambridge University Press, coll. "Proceedings of the Cambridge Philological Society" Supplement Vol. 33,  2007.  Pp. x, 188.  
ISBN 978090614325.  
$90.00.  

Recension par John Scarborough (University of Wisconsin) dans Bryn Mawr Classical Review 2009.10.55.
Présentation de l'éditeur:
This is the first extended study in English of Theophrastus' Characters, one of the briefest but also most influential works to survive from classical antiquity. Since the seventeenth century, the Charactershas served as a model and an inspiration for authors as diverse as LaBruyère, Thackeray, George Eliot and Elias Canetti. This study aims tolocate Theophrastus and his Characters with respect to thepolitical and philosophical worlds of Athens in the late fourthcentury, focusing on later imitators in order to provide clues toreading the Theophrastan original. Special attention is paid to theproblems and possibilities of the Characters as testimony tothe culture and society of contemporary Athens, integrating the textinto the extensive fragments and testimonia of Theophrastus' otherwritings. The implications for the historian of the elusive humour ofthe Characters, dependent in large measure on the device ofcaricature, are explored in detail. What emerges is a picture of thecomplex etiquette appropriate for upper-class citizens in the home, thestreets and other public places in Athens where individuals were ondisplay. Through their resolutely shaming behaviour, the Charactersilluminate the honour for which citizens should, by implication, bestriving. A key theme of the study is Theophrastus' ambivalent positionin Athens: a distinguished philosopher and head of the Lyceum, yetstill subject to the disabilities of his metic status.
Table des matières:
Preface (p.ix)
1: The kairos of the Characters (1)
2. Theophrastus of Eresos and Theophrastus Such (7)
3. Theophrastus the Metic (20)
4. That's Entertainment? (28)
5. They do things differently there? (42)
6. Corruption and the Characters (51)
7. Honour bright (58)
8. Etiquette for an élite: at home (69)
9. Etiquette for an élite: away (83)
10. Face to face in the Agora (93)
11. Conspicuous co-operation? (99)
12. Theophrastus Nonesuch (110)
Endnotes (118)
Appendix 1: Naming the Characters (159)
Appendix 2: Characters in Punch magazine (165)
Appendix 3: Classical allusion in Thackeray's Book of Snobs (167)
Bibliography (172)
Index of References (183)