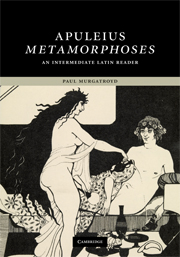 P. Murgatroyd, Apuleius, Metamorphoses. An Intermediate Latin Reader
Cambridge University Press
EAN: 9780521870467
Paul Murgatroyd, Apuleius, Metamorphoses. An Intermediate Latin Reader, Cambridge: Cambridge University Press, 2009.
ISBN : 9780521870467
£45.00
Présentation de l'éditeur:

Apuleius' famous novel, The Metamorphoses,tells the story of a man who was magically changed into an ass, and whohad various (humorous, sad, exciting, disturbing, erotic, horrific)adventures before he regained his human form. As well as beinggenuinely interesting and great fun to read, The Metamorphosesis of great value for the study of narrative technique, literary style,religious practices, contemporary culture in a Roman province and muchmore.
This book contains selections from the novel and isaimed at students moving on to genuine, unsimplified Latin prose aftercompleting an introductory Latin course. It contains a usefulintroduction, detailed notes providing a lot of help with grammar,expression and translation, a full vocabulary, and passages ofappreciation to make the selections come alive as literature and toenhance students' perception and enjoyment of the stories.
• Offers a selection of exciting, horrific and moving Latin passages from this famous and entertaining novel
• Provides detailed notes and a full vocabulary aimed at the student who has completed an introductory Latin course
• Brings the selections alive as literature through passages of historical comment and literary criticism
Table des matières:
1. Introduction and glossary of technical terms;
2. Select bibliography;
3. Text & notes;
4. Appreciation;
5. Vocabulary.
Extraits en ligne sur le site de l'éditeur et sur amazon.com.