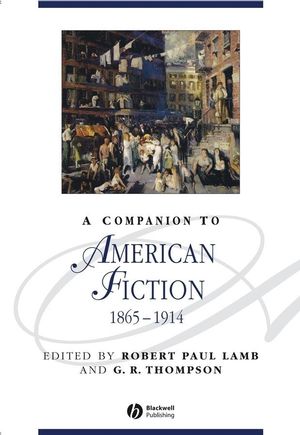 R. P. Lamb, G. R. Thompson (dir.) A Companion to American Fiction 1865 - 1914
Wiley-Blackwell
EAN: 9781405195539
Date de publication : 0 novembre 2009
Information publiée le 28 novembre 2009 par Bérenger Boulay
A Companion to American Fiction 1865 - 1914
Sous la direction de Robert Paul Lamb et G. R. Thompson (Editor)

Wiley-Blackwell,  2009 [2005], 640 p. 
Paperback

ISBN: 978-1-4051-9553-9
£24.99 / €30.00
Hardcover

ISBN: 978-1-4051-0064-9
616 pages, November 2005
£110.00 / €132.0
Extrait 1: Chapter (PDF)
Extrait 2: Table of Contents (PDF)
Extrait 3: Index (PDF)
Présentation de l'éditeur:

A Companion to American Fiction, 1865-1914 is a groundbreaking collection of essays written by leading critics for a wide audience of scholars, students, and interested general readers.

An exceptionally broad-ranging and accessible Companion to the study of American fiction of the post-civil war period and the early twentieth century Brings together 29 essays by top scholars, each of which presents a synthesis of the best research and offers an original perspective
Divided into sections on historical traditions and genres, contexts and themes, and major authors
Covers a mixture of canonical and the non-canonical themes, authors, literatures, and critical approaches
Explores innovative topics, such as ecological literature and ecocriticism, children's literature, and the influence of Darwin on fiction.
Robert Paul Lamb is Associate Professor of English at Purdue University. The author of many articles on American literature and recipient of Harvard University's Bowdoin Prize for scholarship, his teaching honors include Harvard's Stephen J. Botein Prize, Purdue's University Award for Outstanding Undergraduate Teaching, Purdue's Liberal Arts Departmental Award for Educational Excellence, and induction into The Purdue Book of Great Teachers.
G.R. Thompson is Professor of English and Comparative Literature at Purdue University. His previous publications include the Norton Critical Edition of Edgar Allan Poe (2004), Neutral Ground: New Traditionalism and the American Romance Controversy (1999), The Art of Authorial Presence: Hawthorne's Provincial Tales (1993), Essays and Reviews ofEdgar Allan Poe (1984), Ruined Eden of the Present: Hawthorne, Melville and Poe (1981) and Poe's Fiction: Romantic Irony in the Gothic Tales (1973).

Sommaire:

Editors' Introduction: Robert Paul Lamb and G. R. Thompson.


Part I: Historical Traditions and Genres.

1. The Practice and Promotion of American Literary Realism: Nancy Glazener (University of Pittsburgh).

2. Excitement and Consciousness in the Romance Tradition: William J. Scheick (University of Texas, Austin).

3. The Sentimental and Domestic Traditions, 1865-1900: Gregg Camfield (University of the Pacific).

4. Morality, Modernity, and "Malarial Restlessness": American Realism in Its Anglo-European Contexts: Winfried Fluck (University of Berlin).

5. American Literary Naturalism: Christophe Den Tandt (Free University, Brussels).

6. American Regionalism: Local Color, National Identity, and Global Imperative: June Howard (University of Michigan, Ann Arbor).

7. Women Authors and the Roots of American Modernism: Linda Wagner-Martin (University of North Carolina, Chapel Hill).

8. The Short Story and the Short Story Sequence, 1865-1914: J. Gerald Kennedy (Louisiana State University).


Part II: Contexts and Themes.

9. Ecological Narrative and Nature Writing: S. K. Robisch (Purdue University, West Lafayette).

10. "The Frontier Story": The Violence of Literary History: Christine Bold (University of Guelph).

11. Native American Narratives: Resistance and Survivance: Gerald Vizenor (University of California, Berkeley).

12. Representing the Civil War and Reconstruction: From Uncle Tom to Uncle Remus: Kathleen Diffley (University of Iowa).

13. Engendering the Canon: Women's Narratives, 1865-1914: Grace Farrell (Butler University).

14. Confronting the Crisis: African American Narratives: Dickson D. Bruce, Jr. (University of California, Irvine).

15. Fiction's Many Cities: Sidney H. Bremer (University of Wisconsin, Marinette).

16. Mapping the Culture of Abundance: Literary Narratives and Consumer Culture: Sarah Way Sherman (University of New Hampshire).

17. Secrets of the Master's Deed Box: Narrative and Class: Christopher P. Wilson (Boston College).

18. "Ethnic Realism": Robert M. Dowling (Central Connecticut State University).

19. Darwin, Science, and Narrative: Bert Bender (Arizona State University).

20. Writing in the "Vulgar Tongue": Law and American Narrative: William E. Moddelmog (Office of Legislative Counsel, State of California).

21. Planning Utopia: Thomas Peyser (Randolph-Macon College).

22. American Children's Narrative as Social Criticism, 1865-1914: Gwen Athene Tarbox (Western Michigan University).


Part III: Major Authors.

23. An Idea of Order at Concord: Soul and Society in the Mind of Louisa May Alcott: John Matteson (John Jay College, City University of New York).

24. America Can Break Your Heart: On the Significance of Mark Twain: Robert Paul Lamb (Purdue University, West Lafayette).

25. William Dean Howells and the Bourgeois Quotidian: Affection, Skepticism, Disillusion: Michael Anesko (Pennsylvania State University).

26. Henry James in a New Century: John Carlos Rowe (University of Southern California).

27. Toward a Modernist Aesthetic: The Literary Legacy of Edith Wharton: Candace Waid (University of California, Santa Barbara) and Clare Colquitt (San Diego State University).

28. Sensations of Style: The Literary Realism of Stephen Crane: William E. Cain (Wellesley College).

29. Theodore Dreiser and the Force of the Personal: Clare Virginia Eby (University of Connecticut, Hartford).

Index