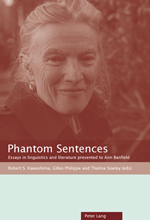 R. S. Kawashima, G. Philippe, T. Sowley (éd.), "Phantom sentences". Essays in linguistics and literature presented to Ann Banfield
Peter Lang
EAN: 9783039112227
Information publiée le 17 avril 2008 par
Marielle Macé
(source : Gilles Philippe)
Robert S. Kawashima, Gilles Philippe, Thelma Sowley (éd.), Essays in linguistics and literature presented to Ann Banfield
Bern, Berlin, Bruxelles, Frankfurt am Main, New York, Oxford, Wien, Peter Lang Publishing, 2008, 482 p
EAN : 9783039112227


Ann Banfield - professor in the Department of English at the University of California, Berkeley - is best known for her groundbreaking contributions to narrative theory. Working within the paradigm of generative linguistics, she argued that the language of fiction is characterized by two «unspeakable sentences», i.e., sentences that do not properly occur in the spoken language: the sentence of «pure narration» and the sentence of «represented speech and thought» (style indirect libre or erlebte Rede).
More recently, Banfield offered a major reconsideration of the novels of Virginia Woolf and modernism in light of the philosophy of knowledge developed by G. E. Moore and Bertrand Russell, and appropriated by Roger Fry in his critical analyses of impressionism and post-impressionism.
The essays gathered here pay tribute to Banfield by addressing those disciplines and topics most closely related to her work, including: narrative theory and pragmatics, the philosophy of language and knowledge, generative syntax, meter and phonology, and modernism.
Contents:
Mieke Bal: Phantom Sentences -
Sylvie Patron: On the Epistemology of Narrative Theory: Narratology and Other Theories of Fictional Narrative -
Gilles Philippe: When and Why Do We Speak of a Discourse without an Addressee -
Julien Piat: « Dire je » : Opacity of a First Person Narrative and Strategies of Reading in Beckett's French Trilogy -
Robert S. Kawashima: What Is Narrative Perspective? A Non-historicist Answer -
Daniel Heller-Roazen: Perception Everywhere -
Anne-Lise François: Unspeakable Weather, or the Rain Romantic Constatives Know -
Jacqueline Guéron: Remarks on the Grammar of Unspeakable Sentences -
Joseph Emonds: Q: the One and Only Functional Head -
Henri-José Deulofeu: Peripheral Constituents as Generalized «Hanging» Topics -
François Rivenc: Chomsky and the Philosophy of Language -
S.-Y. Kuroda: What Is «Iambic Pentameter»? -
Kristin Hanson: Some Phonology of the Novel -
Thelma Sowley: Crossing Boundaries -
Garrett Caples: The Vitality of Roger Fry -
Carlos Reyes: Greekjew Is Jewgreek: Ulysses's Irish Odyssey -
Ernst Van Alphen: Describing the World Seen Without the Self: Modernism, the Impersonal and the Traumatic -
Ann Smock: Instamatic -
Lazare Bitoun: The Unspeakable Table (le Garlic) -
Ann Banfield: Preface to Phrases sans parole.
The Editors: Robert S. Kawashima is assistant professor at the University of Florida in the Department of Religion and the Center for Jewish Studies.
Gilles Philippe is professor of French Literature and French Linguistics at Stendhal University in Grenoble.
Thelma Sowley is retired from the English Department of the University of Paris VIII, where she taught linguistics and poetics.