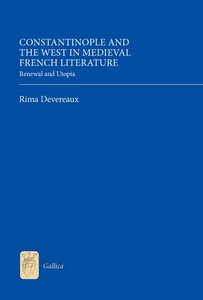 R. Devereaux, Constantinople and the West in Medieval French Literature : Renewal and Utopia
coll. "Gallica"
EAN: 9781843843023
Rima Devereaux, Constantinople and the West in Medieval French Literature : Renewal and Utopia
Cambridge : Boydell & Brewer, coll. "Gallica", 2012.
EAN9781843843023.
248p.
50£
Présentation de l'éditeur :
Medieval France saw Constantinople as something of a quintessential ideal city. Aspects of Byzantine life were imitated in and assimilated to the West in a movement of political and cultural renewal, but the Byzantine capital was also celebrated as the locus of a categorical and inimitable difference.
This book analyses the debate between renewal and utopia in Western attitudes to Constantinople as it evolved through the twelfth and thirteenth centuries in a series of vernacular (Old French, Occitan and Franco-Italian) texts, including the Pèlerinage de Charlemagne, Girart de Roussillon, Partonopeus de Blois, the poetry of Rutebeuf, and the chronicles by Geoffroy de Villehardouin and Robert de Clari, both known as the Conquête de Constantinople. It establishes how the texts' representation of the West's relationship with Constantinople enacts this debate between renewal and utopia ; demonstrates that analysis of this relationship can contribute to a discussion on the generic status of the texts themselves ; and shows that the texts both react to the socio-cultural context in which they were produced, and fulfil a role within that context.

Dr Rima Devereaux is an independent scholar based in London.
Adresse : Boydell & Brewer LtdPO Box 9Woodbridge IP12 3DFSuffolk, UK