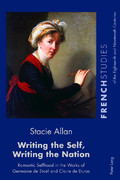 S. Allan, Writing the Self, Writing the Nation. Romantic Selfhood in the Works of Germaine de Staël and Claire de Duras
Writing the Self, Writing the Nation
Romantic Selfhood in the Works of Germaine de Staël and Claire de Duras
By Stacie Allan
Peter Lang Oxford, French Studies of the Eighteenth and Nineteenth Centuries 
series edited by Robin Howells and Fiona Cox:
Oxford, 2019. 240 pp. £42.00
ISBN 978-1-78874-208-5 pb.
ISBN 978-1-78874-209-2 eBook
The French Revolution represents a pivotal moment within the history of personhood in France, where gender and national differences provided the foundations of society. As such, these constructs feature as ideological battlegrounds in the search for identity and self-expression within the Romantic literature published between the revolutions of 1789 and 1830. This book considers Germaine de Staël's and Claire de Duras's depictions of men's and women's shared and diverging lived experiences to offer an innovative transnational perspective on the usually male-focused mal du siècle. Its methodology combines feminist revisions of the novel, situated reading practices, and life writing research with an intersectional approach to gender and nationhood. This framework presents a dialectical relationship between sameness and difference on formal and thematic levels that challenges the construction and enforcement of binaries within early nineteenth-century legislation, discourse, and culture. Beyond Staël's and Duras's intertextual relationship, this book promotes the importance of an understudied period in literary scholarship, clarifies women's role within French Romanticism, and explores the tense relationship between the self and the nation.
Stacie Allan is a specialist in French literature and culture, primarily early nineteenth-century novels. Her research centres on the impact of intercultural encounters on individual subjectivity and literary production. She received her PhD from the University of Bristol in 2017 and has previously taught on French courses at the universities of Bristol and Westminster.
Available for purchase from https://www.peterlang.com/view/title/66303
-------------------------------------------------------------
Orders:
PETER LANG AG
Tel: +41 (0)32 376 17 17
E-mail: order@peterlang.com
Responsable : Stacie Allan