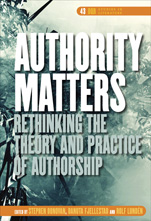 S, Donovan, D. Fjellestad, R. Lundén (dir.), Authority Matters. Rethinking the Theory and Practice of Authorship.
Rodopi, coll. "DQR Studies in Literature 43"
EAN: 9789042024830
Sous la direction de Stephen DONOVAN, Danuta FJELLESTAD et RolfLUNDÉN:

Authority Matters. Rethinking the Theory and Practice ofAuthorship, Amsterdam/New York, Rodopi , 2008, coll."DQR Studiesin Literature" n°43, VI-302 p.
Isbn: 978-90-420-2483-0
62€  / 90 US$
Présentation de l'éditeur
In thiswide ranging collection of essays, eleven literary scholars and creativewriters examine authorship and authority in relation to the production andreception of cultural texts. Ranging in time from the Renaissance to the era ofdigital publishing, the essays invite us to reconsider the influential theoriesof Roland Barthes, Michel Foucault, and Pierre Bourdieu for our understandingof writers such as Philip Sydney, Thomas Hardy, Laura Riding, W.B. Yeats,Gertrude Stein, and J.M. Coetzee. Shedding new light on authority's complexrole in the generation of cultural meaning, the essays will be of interest tostudents and teachers of literary history and critical theory alike.
Table
StephenDONOVAN, Danuta FJELLESTAD and Rolf LUNDÉN: Introduction: Author, Authorship,Authority, and Other Matters
I:Theoretical Considerations
Stephen B.DOBRANSKI: The Birth of the Author: The Origins of Early Modern PrintedAuthority
JamesCHANDLER: Foucault and Disciplinary Authority
JeremyHAWTHORN: Authority and the Death of the Author
Bo G.EKELUND: Authority and the Social Logic of Recognition: Poetics, Politics andSocial Theory
II:Practising Authorship
JeromeMCGANN: The Life of the Dead: Laura Riding and the History of Twentieth-CenturyPoetry
AnnaLINZIE: "Between Two Covers with Somebody Else": Authority, Authorship, and TheAutobiography of Alice B. Toklas
StephenDONOVAN: In the Papers: Hardy, Joyce, and the Modernist Moment
SusanJONES: Knowing the Dancer: Modernism, Choreography, and the Question ofAuthority
MichaelTITLESTAD: Unsettled Whiteness: The Limits of Allegory in Three South AfricanNovels
III:Authors On Authority
MichaelJOYCE: Authorship as Re-placement
AnnFISHER-WIRTH: The Authority of Poetry
Notes onContributors
Index