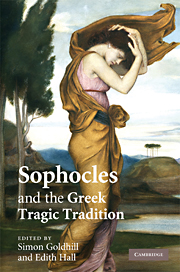 S. Goldhill, E. Hall (dir.), Sophocles and the Greek Tragic Tradition
Cambridge University Press
EAN: 9780521887854

Simon Goldhill, Edith Hall (dir.), Sophocles and the Greek Tragic Tradition,  Cambridge/New York:  Cambridge University Press, 2009.  Pp. xvi, 336.  
ISBN 9780521887854.  
$99.00.  

Recension par Richard Rader (University of Southern California) dans Bryn Mawr Classical Review 2009.12.29.
Extraits en ligne sur le site de l'éditeur et sur amazon.com.

Présentation de l'éditeur:
Thirteen essays by senior international experts on Greek tragedy take afresh look at Sophocles' dramas. They reassess their crucial role inthe creation of the tragic repertoire, in the idea of the tragic canonin antiquity, and in the making and infinite re-creation of the tragictradition in the Renaissance and beyond. The introduction looks at theparadigm shifts during the twentieth century in the theory and practiceof Greek theatre, in order to gain a perspective on the current stateof play in Sophoclean studies. The following three sections explorerespectively the way that Sophocles' tragedies provoked and educatedtheir original Athenian democratic audience, the language, structureand lasting impact of his Oedipus plays, and the centrality of hisoeuvre in the development of the tragic tradition in Aeschylus,Euripides, ancient philosophical theory, fourth-century tragedy andShakespeare.
Table des matières:
Preface Paul Cartledge;
1. Sophocles: the state of play Simon Goldhilland Edith Hall;
Section A. Between Audience and Actor:
2. The audienceon stage: rhetoric, emotion, and judgement in Sophoclean theatre SimonGoldhill;
3. 'The players will tell all': the dramatist, the actors andthe art of acting in Sophocles' Philoctetes Ismene Lada-Richards;
4.Deianeira deliberates: precipitate decision-taking and Trachiniae EdithHall;
Section B. Oedipus and the Play of Meaning:
5. Inconclusiveconclusion: the ending(s) of the Oedipus Tyrannus Peter Burian;
6. Thethird stasimon of Oedipus at Colonus Chris Carey;
7. The logic of theunexpected: semantic diversion in Sophocles, Yeats (and Virgil) MichaelSilk;
8. The French Oedipus of the inter-war period Fiona Macintosh;
Section C. Constructing Tragic Traditions:
9. Theoretical views ofAthenian tragedy in the 5th century BC Kostas Valakas;
10. Athens andDelphi in Aeschylus' Oresteia Angus Bowie;
11. Feminized males inBacchae: the importance of discrimination Richard Buxton;
12. 'Hektor'shelmet glinting in a fourth-century tragedy' Oliver Taplin;
13. Seeinga Roman tragedy through Greek eyes: Shakespeare's Julius Caesar ChrisPelling.