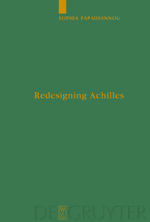 S. Papaioannou, Redesigning Achilles: "Recycling" the Epic Cycle in the Little Iliad (Ovid, Metamorphoses 12.1-13.622)
Walter De Gruyter, coll. "Untersuchungen zur antiken Literatur und Geschichte"
EAN: 9783110200485
Information publiée le 29 octobre 2008 par Bérenger Boulay
S. Papaioannou, Redesigning Achilles: "Recycling" the Epic Cycle in the Little Iliad (Ovid, Metamorphoses 12.1-13.622), Berlin, New York, Walter De Gruyter, coll. "Untersuchungen zur antiken Literatur und Geschichte" n° 89, 2007, xii-304 p.
Isbn 13 (ean): 9783110200485.
98€
Recension dans BRYN MAWR CLASSICAL REVIEW par Ioannis Ziogas (Cornell University) 

Présentation de l'éditeur:

The book is a detailed study on the structure and the topics of Ovid's compedium of the Trojan Saga in Metamorphoses 12.1-13.622,the section also referred to as the "Little Iliad". It explores themotives and the objectives behind the selected narrative moments fromthe Epic Cycle that found their way into the Ovidian version of theTrojan War. By thoroughly mastering and inspiringly refashioning a vastamount of literary material, Ovid generates a systematic reconstructionof the archetypal hero, Achilles. Thus, he projects himself as a worthysuccessor of Homer in the epic tradition, a master epicist, and a parto his great Latin predecessor, Vergil.
Table des matières:
Table of Contents
Preface ........................................................................................................................ V
Table of Contents .................................................................................................. VII
Abbreviations .......................................................................................................... XI
Introduction ................................................................................................................ 1
Chapter One
Designing Epic Beginnings
1. Calchas in the 'Iliad' and the Iliad through Calchas (Met. 12.7-38) .............. 25
 1.1 Funeral Beginnings: Aesacus' Cenotaph ........................................... 25
 1.2 Marvelous Beginnings: The Snake Prodigy ...................................... 31
 1.3 Maiden Beginnings: The Sacrifice of Iphigeneia ............................. 37
2. The Fama of Epic Tradition .............................................................................. 44
Chapter Two
Epic Self-Affirmation and Epic Self-Consioucsness:
Introducing Achilles (Met. 12.64-145)
1 Protesilaus, the Proto-Achilles ........................................................................... 49
2. Cycnus, the alter Achilles .................................................................................... 50
 2.1. Cycnum aut Hectora ................................................................................. 50
 2.2 Do You Know Thy (Epic) Self? ......................................................... 59
 2.3 The Anger of Achilles .......................................................................... 67
 2.4 The Hero's Gender ............................................................................... 72
3. Achilles' 'Victory' ................................................................................................. 79
4. The Swan Poetics ................................................................................................ 83
Chapter Three
Epic Memory and Epic (De)Composition: Deconstructing Achilles
1. Introduction ......................................................................................................... 87
2. Epic Singing and Epic Tales .............................................................................. 88
3. Epic Poetics: The Master of Epic Memory .................................................... 93
4. Epic Labor: Fighting the Freaks ....................................................................... 98
 4.1 The Homeric Subtext ........................................................................... 98
VIII
 4.2 Epic Gender and Epic Performance ............................................... 102
 4.3 The Architecture of the Epic Spectacle .......................................... 108
5. The Spectacular Politics of Immortality ........................................................ 116
Chapter Four
Facets of Elimination: Killing Achilles
1. Introduction ....................................................................................................... 125
2. Challenging Nestor: Tlepolemus Protesting ................................................. 126
3. The Fate of Periclymenus ................................................................................ 135
4. The Death of Achilles ....................................................................................... 138
Chapter Five
The 'Judgment of the Arms': Re-Constructing Achilles
1. Introduction ....................................................................................................... 153
2. The Poetics of Argument ................................................................................. 154
3. The Price of the Prize ....................................................................................... 155
4. 'Writing Up' the Contest .................................................................................. 159
5. Staging the Mênis, the Arms and the Men ..................................................... 164
6. Scripting the Mêtis and the Arms as the Man ................................................ 169
7. The Iliad vs. the 'little Iliad' .............................................................................. 171
8. Polemic En-listing ............................................................................................. 187
9. Daedalean Poetics ............................................................................................. 197
10. The Logic(al) Fashioning of the Epic Hero ................................................ 200
11. Epigrams, Epitaphs, and Epigraphs: Sealing the Closure ........................ 202
Chapter Six
Fe/Male Sacrifice: Performing the Poetics of Genre- and Gender-Crossing in
the 'Fall of Troy' (Met. 13.399-575)
1. Introduction ....................................................................................................... 207
2. The Falls of Troy ............................................................................................... 209
 2.1 The Fall of Troy and the Iliad ........................................................... 209
 2.2 The 'Fall' of Polydorus ...................................................................... 214
3. The 'Fall of Troy' and Hecuba ........................................................................ 222
4. The Anger of Hecuba ....................................................................................... 225
5. Staging Polyxena ................................................................................................ 228
6. Fe/Male Virtus and Sacrifice ........................................................................... 236
7. The Poetics of Lamentation ............................................................................ 244
Chapter Seven
Memnon's Fate and Fame: Impersonating Achilles
1. Introduction ....................................................................................................... 253
2. Memnon and/as Achilles ................................................................................. 254
IX
3. The Power of Aurora ........................................................................................ 257
4. Memnon's 'Hectorean' Side ............................................................................. 259
5. Avian Allusion and Illusion ............................................................................. 262
 5.1 Allusion: The Birds of Meleager ....................................................... 262
 5.2 Illusory Sêmata ..................................................................................... 273
 5.3 Sema-nticNomina ................................................................................. 279
Bibliography ............................................................................................................ 285
Indexes ..................................................................................................................... 293