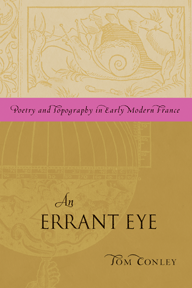 T. Conley, An Errant Eye. Poetry and Topography in Early Modern France
University of Minnesota Press
EAN: 9780816669653
Référence bibliographique : T. Conley, An Errant Eye. Poetry and Topography in Early Modern France, University of Minnesota Press, 2011. EAN13 : 9780816669653.

Tom Conley, An Errant Eye. Poetry and Topography in Early Modern France

Minnneapolis : University of Minnesota Press, 2011.
EAN 9780816669653
264 p.
Prix 25USD

Présentation de l'éditeur :
Deciphering maps as poetry, and poems as maps

An Errant Eye studies how topography, the art of describing local space and place, developed literary and visual form in early modern France. Arguing for a "new poetics of space" ranging throughout French Renaissance poetry, prose, and cartography, Tom Conley performs dazzling readings of maps, woodcuts, and poems to plot a topographical shift in the late Renaissance in which space, subjectivity, and politics fall into crisis. He charts the paradox of a period whose demarcation of national space through cartography is rendered unstable by an ambient world of printed writing.
This tension, Conley demonstrates, cuts through literature and graphic matter of various shapes and forms—hybrid genres that include the comic novel, the emblem-book, the eclogue, sonnets, and the personal essay. An Errant Eye differs from historical treatments of spatial invention through Conley's argument that the topographic sensibility is one in which the ocular faculty, vital to the description of locale, is endowed with tact and touch.
Detailed close readings of Apian, Rabelais, Montaigne, and others empower the reader with a lively sense of the topographical impulse, deriving from Conley's own "errant eye," which is singularly discerning in attentiveness to the ambiguities of charted territory, the contours of woodcut images, and the complex combinations of word and figure in French Renaissance poetry, emblem, and politics.
Tom Conley is Lowell Professor of Romance Languages and Literatures and chair of visual and environmental studies at Harvard University. Among his books are Cartographic Cinema (2007) and Film Hieroglyphs (2006), both published by Minnesota.
Table des matières : 
Preface and Acknowledgments
Introduction: A Snail's Eye
An Event — Tact and Sight — A Topographer's Lens — Itineraries
1. Rabelais: Worlds Introjected
An Encounter — A Meeting: An Event — Other Chapters, Other Realms —
An Open End
2. The Apian Way
A Book and its Fortunes — Topography and the Body — A Spider's Thread —
A Map of the World and its Winds
3. A Landscape of Emblems: Corrozet and Holbein
L'Hécatomgraphie — Hope in the Sphere — Emblems Compassed —
Simulachres de la mort — On Top of the World — The Plowman
4. A Poet in Relief: Maurice Scève
Délie — Epigrams and Emblems — A Spider's Eye — From Délie to Saulsaye —
The Country and the City
5. Ronsard in Conflict: A Writer out of Place
A Graven Style — Ciel, air, & vents, plains & montz descouvers — A Parting Shot — Ronsard Saved from Drowning — Mixed Fortune — Antarctic France
6. Montaigne and his Swallows
A Form of Content — Belon's Birds — Region and Religion
Conclusion: A Tactile Eye
Notes
Works Cited
Index

"In An Errant Eye, Tom Conley slows down our encounter with the Renaissance to a snail's pace. At this tactical speed he leads us across a series of local topographies—topographies of print created by Rabelais, Montaigne, the cosmographer Peter Apian, and other writers and poets of the sixteenth century who felt their way through a radically unstable world. Conley has once again given us a brilliant exploration of the spatial imagination of the French Renaissance, one whose impact will be felt across the disciplines."
—Michael Gaudio, University of Minnesota
"Practicing a highly skillful and imaginative form of criticism, Tom Conley sets for himself the task of unveiling the birth of modern subjectivity in early modern representational artifacts such as maps and literary texts. His readings of textual and visual media are thoroughly gratifying and even exhilarating in their illuminating inventiveness, uncovering meanings unattainable by safer, traditional hermeneutic means."
—Jean-Claude Carron, UCLA