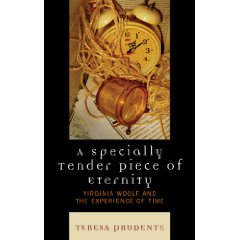 T. Prudente, A Specially Tender Piece of Eternity. Virginia Woolf and the Experience of Time
Lexington Books
EAN: 9780739125557
Date de publication : 28 octobre 2008
Information publiée le 24 mai 2009 par Bérenger Boulay (source :
teresa prudente
)
Teresa Prudente, A Specially Tender Piece of Eternity: Virginia Woolf and the Experience of Time. Lanhman, MD: Lexington Books, oct 2008, 208 p
Isbn 13: 978-0739125557
$65.00
Présentation de l'éditeur:
"A Specially Tender Piece of Eternity is a critically scrupulous and imaginative analysis of Woolf's revolutionary representation of time as non-linear, fluid, fugitive and—at certain  ecstatic  moments—transcendent. Prudente's somewhat surprising emphasis on the ecstatic foundations of Woolf's representations of everyday sensations and experiences is a welcome contribution to Woolf criticism."—Maria DiBattista, professor of English at Princeton University and author of Imagining Virginia Woolf: An Experiment in Critical Biography

A Specially Tender Piece of Eternity examines Virginia Woolf's treatment of time both as a theme of her works and as an essential element in her experimental narrative techniques. It starts from the individuation and analysis of Woolf's key concepts of moments of being, ecstasy and rapture and builds around these ideas an epistemological inquiry into her treatment of what Paul Ricoeur has defined as a-linear time. By drawing on both stylistic analysis and philosophy, Teresa Prudente investigates the experience of a-linear time in Woolf both as the possibility for the subject to enter a timeless temporal dimension, in Orlando and To the Lighthouse, and as a tragic alteration and separation from reality, in Mrs. Dalloway.

Through the accurate examination of the meta-narrative elements in Woolf's novels, and of her original employment of interior monologue and free indirect speech, Prudente closely relates these two states of extra-temporality to the process of artistic creation. In this sense, Woolf's experiments in narrative are redefined and reassessed in the light of the writer's concern to challenge ineffability in re-creating moments of ecstasy.
About the Author
Teresa Prudente is a research fellow in the department of comparative literature at the University of Turin in Italy.