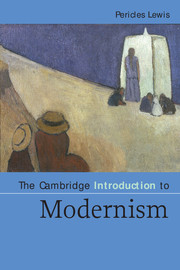 The Cambridge Introduction to Modernism,Pericles Lewis (dir.)
Cambridge University Press, coll. "Cambridge introductions to literature"
EAN: 9780521535274
LEWIS, Pericles [dir.], The Cambridge Introduction to Modernism, Cambridge, Cambridge University Press, 2007, 298 p.
More than a century after its beginnings, modernism still has the power to shock, alienate or challenge readers. Modernist art and literature remain thought of as complex and difficult. This introduction explains in a readable, lively style how modernism emerged, how it is defined, and how it developed in different forms and genres. Pericles Lewis offers students a survey of literature and art in England, Ireland and Europe at the beginning of the twentieth century. He also provides an overview of critical thought on modernism and its continuing influence on the arts today, reflecting the interests of current scholarship in the social and cultural contexts of modernism. The comparative perspective on Anglo-American and European modernism shows how European movements have influenced the development of English-language modernism. Illustrated with works of art and featuring suggestions for further study, this is the ideal introduction to understanding and enjoying modernist literature and art.
• An overview of modernism and its most important authors and texts • Accessibly written, assumes no prior knowledge and covers everything a student needs to know • Includes further reading suggestions to help students find their way in the field
Contents
Preface
Introduction
Part I. Origins:
1. Trials of modernity
2. Primitivists and modernizers
3. The avant-garde and High modernism
Part II. Genres:
4. Poetry
5. Prose fiction
6. Drama
Part III. Fate:
7. Literature and politics
Conclusion: after modernism?
Chronology.