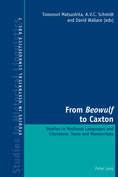 Tomonori Matsushita, A.V.C. Schmidt, David Wallace (éd.), From Beowulf to Caxton
Peter Lang, coll. "Studies in Historical Linguistics"
EAN: 9783034301046
From Beowulf to Caxton
Sous la direction de Tomonori Matsushita, A.V.C. Schmidt, David Wallace

EAN : 9783034301046
Prix : 57EUR
Présentation de l'éditeur :
SenshuUniversity has hosted many international conferences on medievalEnglish literature - primarily on Geoffrey Chaucer and William Langland- as well as in the related fields of Old Germanic, medieval French andRenaissance Italian literature. These international collaborationsinform and contribute to the present volume, which addresses theheritage bequeathed to medieval English language and literature by theclassical world.
This volume explores the development of medieval English literature inlight of contact with Germanic and Old Norse cultures, on the one hand,and Romance languages, on the other. The book includes a comparativestudy of Beowulf in the Germanic context, discusses aspects of Piers Plowman and its tradition, and offers philological approaches to Chaucer (especially his Troilus and Criseyde).The articles assembled here collectively suggest how the torches ofclassical learning were carried from continental Europe to illuminatethe pages of medieval English literature.
Contents:
Tomonori Matsushita: Introduction
Graham D. Caie: A Case of Double Vision: Denmark in Beowulf and Beowulf in England
Kazutomo Karasawa: Hrothgar in the Germanic Context of Beowulf
A.V.C. Schmidt: The Four Elements as a Structural Idea in Piers Plowman
Helen Barr: The Place of the Poor in 'the Piers Plowman Tradition'
Masatoshi Kawasaki: 'My Wyl Is This' (Canterbury Tales. I [A] 1845): Chaucer's Sense of Power in The Knight's Tale and The Clerk's Tale
Yoshiyuki Nakao: Textual Variations in Troilus and Criseyde and the Rise of Ambiguity
Yoshiyuki Nakao/Masatsugu Matsuo: A Comprehensive Textual Comparison of Troilus and Criseyde: Corpus Christi College, Cambridge, MS 61 and B.A. Windeatt's Edition of Troilus and Criseyde (1990)
Mitsu Ide: The Old English Equivalents for Factum Esse and the Salisbury Psalter
Akiyuki Jimura: On the Decline of the Prefix y-of Past Participles
Hiroshi Yonekura: Compound Nouns in Late MiddleEnglish: Their Morphological, Syntactic and Semantic Description
MasaIkegami: Robert Henryson's Rhymes between 'Etymological -e and -i' and the Special Development of Unstressed /i/
Akinobu Tani: Word Pairs or Doublets in Caxton's History of Reynard the Fox: Rampant and Tedious?
Sylvia Huot: Senshu University Manuscripts 2 and 3 and the Roman de la Rose Manuscript Tradition
Patrick P. O'Neill: The Senshu Psalter.
Tomonori Matsushita is Professor of Medieval English literature and linguistics, Senshu University, Tokyo.
A.V.C. Schmidt is Andrew Bradley-James Maxwell Fellow of Balliol College, Oxford.
David Wallace is Judith Rodin Professor of English, University of Pennsylvania.