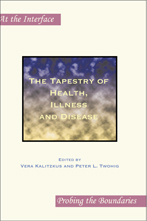 V. Kalitzkus, P. L. Twohig (dir.),The Tapestry of Health, Illness and Disease
Rodopi, coll. "At the Interface Probing the Boundaries"
EAN: 9789042025158
Vera KALITZKUS, Peter L. TWOHIG (dir.), The Tapestry of Health, Illness and Disease
Amsterdam/New York, NY : Rodopi collection "Atthe Interface/Probing the Boundaries" n° 55
2009, VII-191 p.
 Isbn 13 (ean) :978-90-420-2515-8
Présentation de l'éditeur
Humansuffering and illness as well as health and healing are topics of ongoingactuality. In a world of growing complexity and interrelatedness a broaderperspective on these topics is needed. The global conference project on "MakingSense of: Health, Illness and Disease" is a forum for scholars from variouscountries who are interested in deepening the interdisciplinary discourse onthe subject. This book is the outcome of the 5th conference held at Mansfield College, Oxford, in July 2006. It combines essaysthat transgress traditional disciplinary boundaries in the field of health caredelivery and medicine. It thus will be of interest to students in the medicalhumanities, researchers as well as health care providers who wish to gaininsight into the various perspectives through which health, illness and diseasecan be understood.
Table
VeraKALITZKUS and Peter L. TWOHIG: Introduction
Part 1.Perspectives from Literature
HaroldSCHWEIZER: On Waiting and Hoping in Raymond Carver's "A Small, Good Thing"
JenniferCOOKE: Writing Plague: Transforming Narrative, Witnessing and History
SherahWELLS: Strand by Strand: Untying the Knots of Mental andPhysical Illness in the Correspondence and Diaries of Antonia White and EmilyHolmes Coleman
Part 2.Politics, Community and Biomedicine
Stephan VANERP: Diagnosing Hidden Religion in Medicine: Health, Illness and the Politicsof Hope
KateCOLEMAN: Personal and Communal Reactions to Cancer: An InterpretivePhenomenological Analysis of the Beliefs held by Charedi Jewish Breast CancerPatients
JaninaKEHR: The Politics and Poetics of Migrant Tuberculosis: Modelling a "SocialDisease" in French Public Health
MonicaBROWN: Woman as Mysterious Machine: Metaphor, Rhetoric and Female SexualDysfunction
Part 3. TheMultiple Subjectivities of Addiction
AndyRUDDOCK: It's the Stories You Tell: Binge Drinking, Violence and Celebrity
MariaCAIATA ZUFFEREY: "I use drugs, but I am not a drug addict": How Heroin andCocaine Users Make Sense of Their Practice as a Healthy Behaviour
KimmoSAARISTO: Abnormal Normality: Addiction, Identity and the Problem of Normal