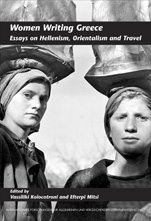 V. Kolocotroni, E. Mitsi (dir.), Women Writing Greece. Essays on Hellenism, Orientalism and Travel.
Rodopi, coll. "Internationale Forschungen zur Allgemeinen und Vergleichenden Literaturwissenschaft 118"
EAN: 9789042024816
Women Writing Greece. Essays on Hellenism, Orientalism and Travel. Amsterdam/New York, Rodopi, coll. "InternationaleForschungen zur Allgemeinen und Vergleichenden Literaturwissenschaft" n°118, 2008, iv-257p.

Sous la direction de Vassiliki KOLOCOTRONI et Efterpi MITSI.

978-90-420-2481-6
Présentationde l'éditeur
WomenWriting Greece explores images of modern Greece by women who experienced thecountry as travellers, writers, and scholars, or who journeyed there throughthe imagination. The essays assembled here consider women's travel narratives,memoirs and novels, ranging from the eighteenth to the late twentieth century,focusing on the role of gender in travel and cross-cultural mediation andchallenging stereotypical views of 'the Greek journey', traditionally seen asan antiquarian or Byronic pursuit. This collection aims to cast new light onwomen's participation in the discourses of Hellenism and Orientalism, examiningtheir ideological rendering of Greece as at once a luminous land and asite crossed by contradictory cultural memories. Arranged chronologically, theessays discuss encounters with Greece by, among others, Lady ElizabethCraven, Lady Hester Stanhope, Lady Montagu, Lady Morgan, Mary Shelley, FeliciaSkene, Emily Pfeiffer, Eva Palmer, Jane Ellen Harrison, Virginia Woolf, EthelSmyth, Christa Wolf, Penelope Storace and Gillian Bouras, and analyse themthrough a variety of critical, historical, contextual and theoretical frames.
Les auteurs
VassilikiKolocotroni is Senior Lecturer in English Literature at the University of Glasgow.
EfterpiMitsi is Assistant Professor at the Faculty of English Studies of the University of Athens.
Table des matières
VassilikiKOLOCOTRONI and Efterpi MITSI: Introduction
EfterpiMITSI: Lady Elizabeth Craven's Letters from Athens and the Female Picturesque
VassilikiMARKIDOU: Travels Off-centre: Lady Hester Stanhope in Greece
EvgeniaSIFAKI: A Gendered Vision of Greekness: Lady Morgan's Woman: Or Ida of Athens
MariaKOUNDOURA: Real Selves and Fictional Nobodies: Women's Travel Writing and theProduction of Identities
Churnjeet KAURMAHN: The Sculpture and the Harem: Ethnography in Felicia Skene's WayfaringSketches
TDOLVERSON: 'A world without woman in any true sense': Gender and Hellenism inEmily Pfeiffer's Flying Leaves from East and West
MarthaKLIRONOMOS: British Women Travellers to Greece, 1880-1930
ArtemisLEONTIS: Eva Palmer's Distinctive Greek Journey
ChristinaDOKOU: 'No Place Like Home': Gillian Bouras and the 'Others'
HelgaRAMSEY-KURZ: Going Back to the Mother: Postcolonial Inscriptions and MigrantTales
Asimina KARAVANTA:The Greek Ideal in Patricia Storace's Dinner with Persephone and Christa Wolf'sCassandra
Contributors
Index