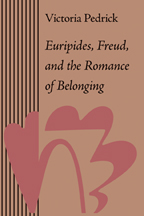 V. Pedrick, Euripides, Freud, and the Romance of Belonging
VictoriaPedrick, Euripides, Freud, and the Romance of Belonging, The John Hopkins University Press, 2007, 272p.
Isbn (ean13): 978-0-8018-8594-5

Description:
Freud's interpretationof the ancient legend of Oedipus—as formulated in Sophocles' tragic drama—isamong the most widely known concepts of psychoanalysis. Euripides' Ion,however, presents a more complex version of the development of personalidentity. Here, the discovery of family origins is a process in which parentand child both take part as distinct agents driven by their own impulses ofviolence and desire. Euripides, Freud, and the Romance of Belonging studies theconstruction of identity and the origins of the primal trauma in two texts, theIon and Freud's case history of the Wolf Man. Victoria Pedrick challenges theconventional psychoanalytic theory of the development of the individual withinthe family, presenting instead a richer and more complex economy of exchangebetween the parent and the child. She provides a new perspective on Freud'sappropriation of ancient texts and moves beyond the familiar reunion in Oedipusto the more nuanced scene of abandonment present in Ion. Her parallelinvestigation of these texts suggests that contemporary culture remainspreoccupied by the problems of the past in the determination of identity.Pedrick's fresh perspectives on both texts as well as on their relationship toeach other shed new light on two foundational moments in the intellectualdevelopment of the West: Greek tragedy and Freudian psychoanalysis.
L'auteur
VictoriaPedrick is an associate professor of classics at Georgetown University.