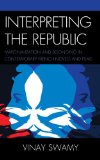 V. Swamy, Interpreting the Republic: Marginalization and Belonging in Contemporary French Novels and Films
Lexington Books
EAN: 9780739165362
Vinay Swamy, Interpreting the Republic: Marginalization and Belonging in Contemporary French Novels and Films
Lanham, MD: Lexington Books, 2011.
EAN : 9780739165362
208 pages. 
Prix : USD 65,00/ EUR 44,95/ GBP 39,95 (hardback).
Présentation de l'éditeur :
Interpreting the Republic focuses on contemporary French literary and cinematic works (1986-2003) that reflect on what it means to belong to a nation such as France by giving voice to those who find themselves marginalized by French society. While citizenship and belonging can be, and indeed are, interpreted differently depending on the socio-cultural and political context, it is the foundational universalist republican principle of egalitarianism that has remained the sacred cow of French society. One of the major claims of this study is that the rigidity of French national discourse that attempts to impose a certain homogeneity in its official identificatory practices -- all citizens are French, and thus difference (ethnic, sexual or other) ceases to matter -- is but one of the many possible interpretations of the notion of the Republic. Vinay Swamy seeks to show how such supposedly unshakeable principles, too, can be, and often are, reinterpreted in novel ways by the works analyzed in this study, which carve out niches for their protagonists that are otherwise foreclosed in the French national space.
"In this elegant and incisively written study, Swamy shows how recent Francophone literature and cinema are changing and indeed enriching the legacy of Republican France. At this very moment, in the midst of current events in Tunisia and Egypt, his arguments in favor of our embrace of difference are timely and necessary. This book shows exactly what we can make and do with the Francophone canon in the best of all ways. Interpreting the Republic is a book that engages and inspires." – Tom Conley, Harvard University
"Vinay Swamy's admirable Interpreting the Republic: Marginalization and Belonging in Contemporary French Novels and Films is a remarkable intervention in French and Francophone studies, one that brings the field closer to bridging the gap between "French" and "Francophone." It does so by bringing "Beur studies" to the center of both metropolitan French studies and the way we understand the French Republic, thereby demarginalizing the postcolonial periphery. Swamy does not stop there, however, for he goes on to add several additional layers of complexity to his redefinition of the Republic by incorporating questions of gender, sexuality, and religion. In the context of a global "war on terror," this timely study therefore thoroughly challenges what some have called a "clash of civilizations." – Jarrod Hayes, University of Michigan

Vinay Swamy is assistant professor of French and Francophone studies at Vassar College.

Book reviewers: to request a press copy, please contact Justin Race at JRace@rowman.com.
Adresse : Vassar College Box 46, 124 Raymond Avenue Poughkeepsie, NY 12604, USA