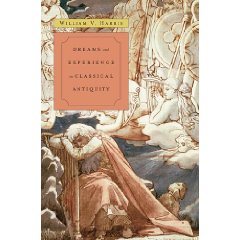 W. V. Harris, Dreams and Experience in Classical Antiquity
Harvard University Press
EAN: 9780674032972
Information publiée le 10 octobre 2009 par
Judith Rohman
(source : Compitum)
W. V. Harris, Dreams and Experience in Classical Antiquity, Cambridge (MA): Harvard University Press. 2009. 352 pages.
ISBN: 978-0-674-03297-2
prix: $49.95
Extraits en ligne sur www.hup.harvard.edu.
Présentation de l'éditeur:
From the Iliad to Aristophanes, from the gospel of Matthew toAugustine, Greek and Latin texts are constellated with descriptiveimages of dreams. Some are formulaic, others intensely vivid. The bestancient minds—Plato, Aristotle, the physician Galen, andothers—struggled to understand the meaning of dreams.
With Dreams and Experience in Classical Antiquity therenowned ancient historian William Harris turns his attention tooneiric matters. This cultural history of dreams in antiquity draws onboth contemporary post-Freudian science and careful critiques of theancient texts. Harris traces the history of characteristic forms ofdream-­description and relates them both to the ancient experience ofdreaming and to literary and religious imperatives. He analyzes thenuances of Greek and Roman belief in the truth-telling potential ofdreams, and in a final chapter offers an assessment of ancient attemptsto understand dreams naturalistically.
How did dreaming culture evolve from Homer's time to lateantiquity? What did these dreams signify? And how do we read andunderstand ancient dreams through modern eyes? Harris takes an elusivesubject and writes about it with rigor and precision, reminding us ofspecificities, contexts, and changing attitudes through history.
Table des matières:
Preface
Abbreviations
Introduction: Then and Now
From Epiphany to Episode: A Revolution in the Description of Dreams
Epiphany or Messenger Dreams
Definition and Origin of the Epiphany Dream
Varieties of the Epiphany Dream
Distinguishing the Epiphany Dream from the Modern Dream
Other Kinds of Greek and Roman Dream Reports
The Force of Convention
Actual Epiphany Dreams?
The Epiphany Dream in DangerGalen and Aelius Aristides
Late-antique Stimuli
Epiphany Dreams in the Middle Ages
The Early-Modern Demise
Explaining the Change
Greek and Roman Dreams That Were Really Dreamt
Is this Tale Tall?
An Essential Question
The Matter of Authenticity
The Problem of Memory
Dream-like Dreams
Mendacious Historians and Biographers
Some Strong Candidates
Perpetua
Artemidorus
Constantine
Augustine


Aelius Aristides
Writing Good Stories
Greek and Roman Opinions about the Truthfulness of Dreams
What They Believed and What We Believe
Truth
Belief
The Interpreters
Metaphors
The Greeks before the Sophists
Fifth-century Athens
Ordinary and Extraordinary Athenians in the Fourth Century
Plato and Aristotle
Hellenistic Impressions
Predictive Dreams in the Context of Greek Divination
The Roman Republic down to Sulla
Lucretius, Cicero and the Late Republic
Incubation and the Doctors
Augustus to the Flavians
A Victory for Religion?100–250 AD
What Dreams Were Good for under the Roman Empire
Late Antiquity
A Conclusion
Naturalistic Explanations
Introduction
The Origins of Naturalistic Thinking about Dreams
The Preplatonic Philosophers
'Hippocratic' Doctors
Back to Plato
Aristotle Uncertain
The Epicureans
Other Hellenistic Voices
The Reasons for a Failure
A Note on Galen
What Does a Swallow Mean?
A Complete Halt
Conclusions
Bibliography
Index
Illustrations