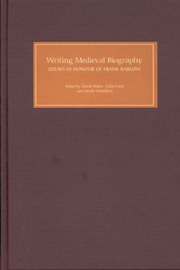 Writing Medieval Biography, 750-1250 . Essays in Honour of F. Barlow
Information publiée le 3 septembre 2008 par Bérenger Boulay (source : The Medieval Review)

Writing Medieval Biography, 750-1250 . Essays in Honour of Frank Barlow

Textes réunis par David Bates, Julia Crick, Sarah Hamilton 

Boydell Press, 2006 

 Isbn (ean13): 9781843832621


Recension de cet ouvrage par dans The Medieval Review par Geoffrey Koziol: TMR 08.09.01

Présentation de l'éditeur:

Biography is one of the oldest, most popular and most tenacious of literary forms. Perhaps the best attested narrative form of the Middle Ages, it continues to draw modern historians of the medieval period to its peculiar challenge to explicate the general through the particular: the biographer's decisions to impose or to resist the imposition of order on biographical remnants raise issues which go to the heart of historical method.
This collection, compiled in honour of a distinguished modern exponent of the art of biography, contains sixteen essays by leading scholars which examine the limits and possibilities of the genre for the period between 750AD and 1250AD. Ranging from pivotal figures such as Charlemagne, William the Conqueror and St Bernard, to the anonymous female skeleton in an Anglo-Saxon grave, from kings and queens to clerks and saints, and from individual to the collective biographies, this collection investigates both medieval biographical writings, and the issues surrounding the writing of medieval lives.
Professor DAVID BATES is Director of the Institute of Historical Research; Dr JULIA CRICK and Dr SARAH HAMILTON teach in the Department of History at the University of Exeter.

Sommaire:

1           Did Charlemagne Have a Private Life?
Janet L Nelson
2           Bones for Historians: Putting the Body back into Biography
Robin Fleming
3           `Carriers of the Truth': Writing the Biographies of Anglo-Saxon Female Saints
Barbara Yorke
4           Alfred and His Biographers: Images and Imagination
Richard Abels
5           Re-reading King Æthelred the Unready
Simon D Keynes
6           Writing the Biography of Eleventh-Century Queens
Pauline Stafford
7           The Flemish Contribution to Biographical Writing in England in the Eleventh Century
Elisabeth Van Houts
8           The Conqueror's Earliest Historians and the Writing of His Biography
David R Bates
9           Secular Propaganda and Aristocratic Values: The Autobiographies of Count Fulk le Rechin of Anjou and Count William of Poitou, Duke of Aquitaine
Jane P. Martindale
10           Reading the Signs: Bernard of Clairvaux and His Miracles
C J Holdsworth
11           Arnulf's Mentor: Geoffrey of Lèves, Bishop of Chartres
Lindy Grant
12           The Empress Matilda as a Subject for Biography
Marjorie Chibnall
13           The Gesta Stephani
Edmund King
14           Writing the Biography of Roger of Howden, King's Clerk and Chronicler
John B Gillingham
15           Writing a Biography in the Thirteenth Century: the Construction and Composition of the `History of Willliam Marshal'
David Crouch
16           The Strange Case of the Missing Biographies: The Lives of the Plantaganet Kings of England 1154-1272
Nicholas Vincent