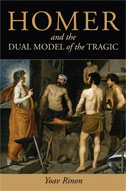 Y. Rinon, Homer and the Dual Model of the Tragic
University of Michigan Press
EAN: 9780472116638

Yoav Rinon, Homer and the Dual Model of the Tragic, Ann Arbor: University of Michigan Press, 2008. 220 pages.  
ISBN 9780472116638.  
$65.00.  

Recension par Robert J. Rabel (University of Kentucky) dans Bryn Mawr Classical Review 2009.07.41.
Présentation de l'éditeur:
Homer and the Dual Model of the Tragicinterprets both of Homer's epics as demonstrating a sense of "theTragic." While this view of human experience and society is customarilylinked with Greek tragedy rather than epic, Rinon uses close readingsof the texts to argue persuasively that both The Iliad and The Odyssey present a view of pathos interwoven with the knowledge that it is unavoidable and inexplicable.
Using Aristotle's Poetics as a guide toward defining eutuchia and dystuchia,Rinon analyzes specific sections of the epics. He touches on theCyclops episode and its use of Bakhtinian "heteroglossia," on the useof Hephaestus' creativity in both epics in the emergence of tragicsignification, and on Demodocus' songs in book 8 of The Odyssey as seen through André Gide's mise en abîme.Other detailed readings look at individual themes and characters in thepoems, including the image of the dog, the speeches in the ninth bookof The Iliad, and numerous minor characters.
Yoav Rinon's integration of classical philology, narratology, and post-colonial studies makes Homer and the Dual Model of the Tragica widely interdisciplinary book, one that will appeal to bothspecialists and undergraduates in comparative literature, philosophy,and classical studies.
L'auteur:

Yoav Rinon is aSenior Lecturer in the Department of General and Comparative Literatureand the Department of Classics at The Hebrew University. His previousbooks include Sadian Reflections (2005) and Aristotle's Poetics: Translation, Notes and Commentary (in Hebrew, 2003).
Table des matières:
A tragic pattern in the Iliad : missed kairos, misunderstandings, andmissing the dead
Painful remembrance of things past : passivesuffering, agonizing recognitions, and doleful memories in the Odyssey
The pivotal scene and the tragic : heteroglossia, focalization, andcolonialism in Odyssey 9
Hector in flight : the absurd and thetragic in the Iliad
Mise en abyme and the tragic : metaphysicalrecognition in the three songs of Demodocus
Tragic Hephaestus : thehumanized god in the Iliad and the Odyssey
The Iliad, the Odyssey,and the dual model of the tragic.