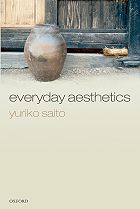 Y. Saito, Everyday Aesthetics
Oxford University Press
EAN: 9780199278350
Date de publication : 0 janvier 2008
Everyday Aesthetics
Yuriko Saito
Oxford UP
288 pages | 234x156mm
978-0-19-927835-0 | Hardback | 03 January 2008
Also available as: Paperback
Price:  £34.00



Everyday aesthetic experiences and concerns occupy a large part of our aesthetic life. However, because of their prevalence and mundane nature, we tend not to pay much attention to them, let alone examine their significance. Western aesthetic theories of the past few centuries also neglect everyday aesthetics because of their almost exclusive emphasis on art. In a ground-breaking new study, Yuriko Saito provides a detailed investigation into our everyday aesthetic experiences, and reveals how our everyday aesthetic tastes and judgments can exert a powerful influence on the state of the world and our quality of life.

By analysing a wide range of examples from our aesthetic interactions with nature, the environment, everyday objects, and Japanese culture, Saito illustrates the complex nature of seemingly simple and innocuous aesthetic responses. She discusses the inadequacy of art-centered aesthetics, the aesthetic appreciation of the distinctive characters of objects or phenomena, responses to various manifestations of transience, and the aesthetic expression of moral values; and she examines the moral, political, existential, and environmental implications of these and other issues.

Introduction
I: The Neglect of Everyday Aesthetics
II: The Significance of Everyday Aesthetics
III: Aesthetics of Distinctive Characteristics and Ambience
IV: Everyday Aesthetic Qualities and Transience
V: Moral-Aesthetic Judgments of Artifacts
Conclusion
Bibliography


"Everyday Aesthetics is a well-argued and ground-breaking piece of philosophy which has much to say about issues in contemporary philosophy of art and design theory while also helping to form a new sub-discipline within aesthetics. It also has the advantage of being immensely readable." - Tom Leddy, Notre Dame Philosophical Reviews

"a welcome book: Saito has given serious attention to an area of the human aesthetic response that has been sadly neglected in the West." - Robert Wilkinson, British Journal of Aesthetics

"The first explicit aim of Saito's book is, in effect, a reply to those who neglect or scoff at the aesthetics of mundane things and activities - an attempt to establish the credentials of 'everyday aesthetics' by showing that it renders aesthetic discourse more truthful and faithful to the richness of aesthetic experience. It is only various pre judices, she argues, that can explain the neglect of the everyday in Western aesthetic tradition." - David E. Cooper, Times Literary Supplement
*  *  *
On peut lire sur le site nonfiction.fr un article sur cet ouvrage: "Une esthétique ordinaire", par N. Blanc